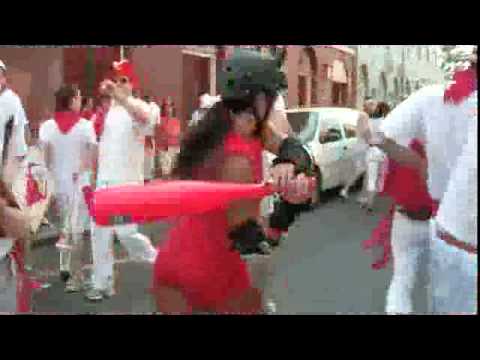 Looking for a way to spice up an already exciting trip in New Orleans? Head to The Big Easy during the summer to run with the bulls. OK…not really, but you can be 1 of 100s of spectators that try to avoid roller derby chicks dressed as bulls. These women follow a predetermine route, but festival goers must be nimble to dodge these "bulls," carrying plastic bats to beat off anyone standing in their way. Check out the website for more information.
In case you didn't know, San Fermin is a festival celebrated in Pamplona, Spain, in honor of Saint Fermin. It starts on July 6 at noon and runs until July 14 at midnight. Over a million people travel to see the festival, including running of the bulls, the festival's main attraction.
Take a break and satisfy you quest for thrill and adventure. Check out this fun video we found on YouTube from this past weekend. It's not the best quality, but it definitely looks like a good time! What do you think?