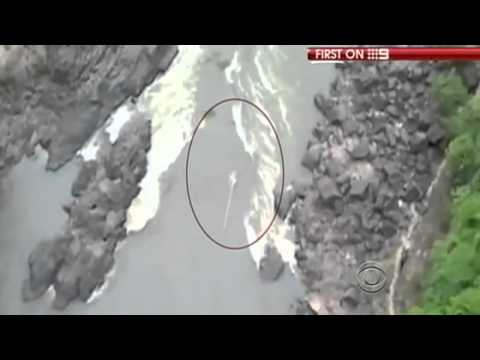 A 22-year-old Australian woman is thankful to be alive, after her bungee jump in Africa went horribly wrong. Erin Langworthy wanted to celebrate New Year's Eve with an adrenaline rush. So she decided to take an111-meter bungee jump off the Victoria Falls Bridge, located on the border between Zambia and Zimbabwe.
The adventurous traveler jumped from the bridge, plunging head-first into the croc-infested waters of the Zambezi River, when her bungee cord snapped. The entire event was caught on video. Langworthy is seen hitting the water with her feet still tied before being swept towards edge of the river. She was able to swim to the Zimbabwe side of the river and haul herself out. Langworthy was flown to a South African hospital with a fractured collar bone and massive bruising.
Well, bungee jumping isn't for the faint of heart, but we wanted to share this amazing video and more details about this gut-wrenching story. So do you think this will show up on an episode of When Vacations Attack?